When And Where To Focus Your Listings In September 2021
When And Where To Focus Your Listings In September 2021
Great news for all agent partners, Estate Agency practice is categorized under Essential Service as of 25 August 2021. With business operations gearing up and over 65% of Malaysian adults fully vaccinated, now's the time to maximise your listings' exposure with Spotlight to stand out in search results.  
In our previous article, Monday recorded the highest number of searches. Let's find out when and where were property seekers most actively searching in the month of August.    
When To Focus Your Listings? 
Search data based on PropertyGuru.com from 1 August to 29 August 2021 showed Wednesdays with the highest number of searches in the week, followed closely by Tuesdays.  
Below graph also illustrates strong purchase intent with relatively high pageviews throughout Thursdays to Mondays.   
As for time of the day property seekers are most active, their trend remains consistent; with traffic picking up from 10AM-5PM, dipping slightly during dinner time (6PM-7PM) and continuing rising from 8PM all the way till 10PM.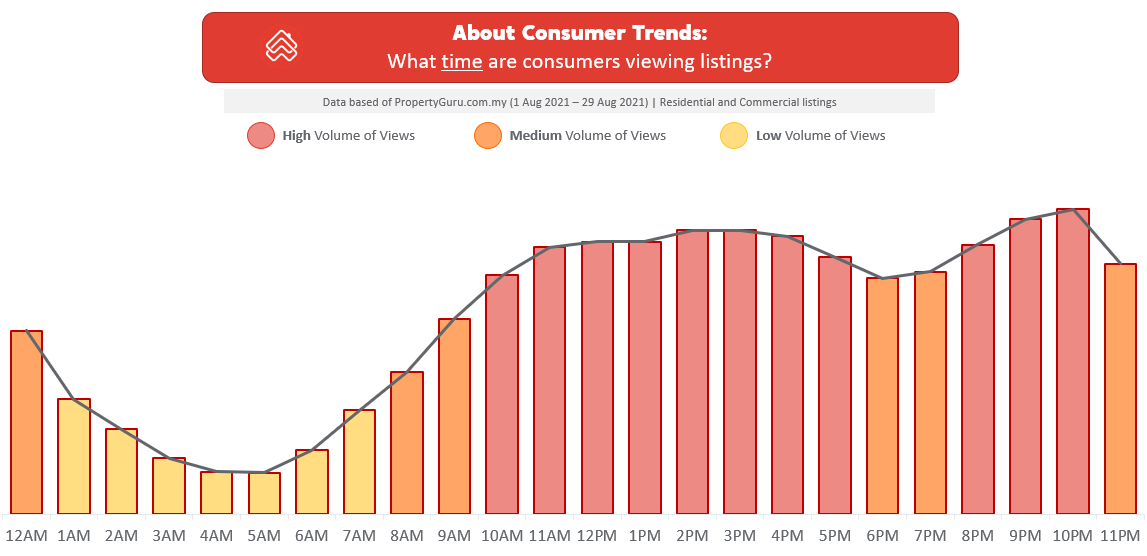 Where To Focus Your Listings

?
Now that you know when and what time property seekers are most active, here are the Top 10 Most Popular Areas searched by property seekers from 1st to 29 August 2021.  
Kuala Lumpur
Selangor
Penang
Johor
TIP! Update your social media links on your NEW  Agent Profile  to help you improve your personal branding to grow your business. 
We hope you've found this piece useful and look forward to delivering you more helpful content!   
-PropertyGuru Team